Green Square town centre
With vision, tenacity and a 20 year investment Landcom resolved the ownership, planning and infrastructure constraints of this former industrial site to deliver this exciting new town centre halfway between the Sydney CBD and Sydney Airport.
Already we have delivered 476 new homes and 3,343m2 of retail tenancies through our private sector partnering arrangement with Mirvac, and together we are bringing the Green Square town centre to life.
Sustainability, placemaking and design quality are key elements of our offering at Green Square town centre.
This year we celebrated the opening of the OVO residential apartment building. OVO is the tallest tower in Green Square town centre and has a distinctive ellipsoid-shape and a botanically inspired colour scheme. Designed by FJMT in partnership with Mirvac Design, OVO received an Honourable Mention at The International Design Awards held in Los Angeles in April 2019 and was described by judges as offering a powerful sense of identity to the Green Square town centre in the City of Sydney.
Another way we are helping to create a sense of place and community at Green Square town centre is through the work of our dedicated Place Manager. This year we have shared in the community's delight at the opening of the new library and plaza, and their participation in placemaking initiatives. Our placemaking initiatives occur through partnerships with the local community arts organisation, 107 Projects, local artists and other community program providers, as well as through Landcom and Mirvac's Green Square Summer Festival. The placemaking initiatives aim to cater for everyone in the community.
Sustainability is also key to the success of Green Square. The 6 Star Green Star Communities rating for this project representing 'World Leadership' excellence in sustainable development awarded to Green Square town centre is considered ground breaking. A number of stakeholders enabled the Green Star rating for the town centre. City of Sydney coordinated the rating application as the certification Applicant, with input from all developers in Green Square town centre, including Landcom.
Interest in our achievements at Green Square town centre also extends to high school geography students. Green Square town centre is a Higher School Certificate case study and we enthusiastically welcome hundreds of students each year to learn about urban dynamics, urban renewal, and the importance of property development to housing supply and economic development in NSW.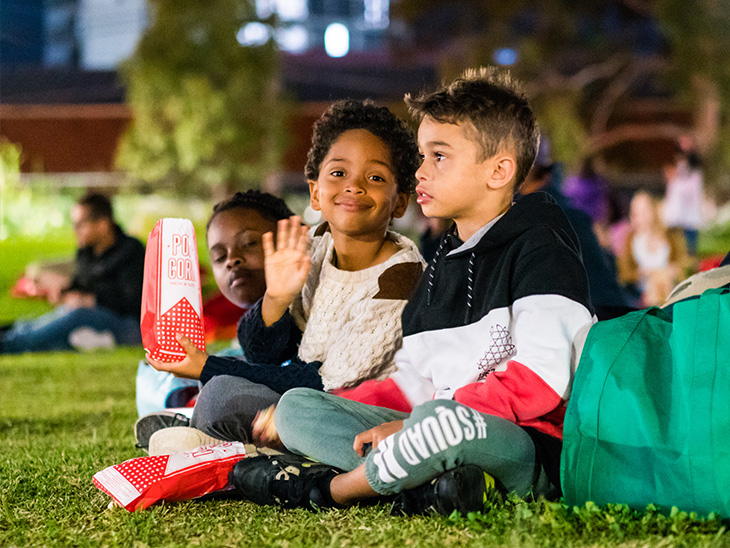 Other Case Studies