Land and Housing Corporation partnership
For over a decade Landcom has been working with Land and Housing Corporation to deliver new diverse communities where:
Social housing blends in with private and affordable housing; and
Residents have better access to transport, improved community facilities and quality parklands.
Our unique role in these projects across south west Sydney leverages government investment in social infrastructure and delivers quality urban and social outcomes for the whole community. In Stages 4 and 5 at Bonnyrigg this year Landcom has delivered 21 apartments, eight houses and eight terraces for social housing, mixed across 150 new dwellings. The sale of new housing has also been successful and our residents are very proud to live in this revitalised and affordable suburb.
Landcom also improves the opportunities for local disadvantaged and out of work people with work and training opportunities through the Skills Exchange program. The Skills Exchange program is a key element of Landcom's Sustainable Places Strategy and aims to provide education, training and ultimately clear pathways for local people to access local jobs.
In 2019 eleven students are participating in the Skills Exchange program at Bonnyrigg in a partnership between Landcom, Land and Housing Corporation, TRN (our Principal Civil Contractors), Master Builders Association and the Daystar Foundation.
The students are from surrounding areas and will participate in a three day training course each week over a six week period to gain certified skills including basic construction, construction health and safety, first aid and traffic management.
TRN will be offering positions to five of the graduates to work on the next stage of earthworks for our Bonnyrigg community. The remaining graduates will be connected with labour hire companies to help their job search.
This is the third Skills Exchange since 2017 with over 30 participants to date learning the skills they need to find employment in Australia's largest industry.
One of our earliest graduates, Tasileta Poutasi is a labourer who now drives dozers and graders with Western Earthmoving (WEM). This is an amazing success.
Our Skills Exchange program demonstrates partnership and leadership in action, and we are planning more in the future.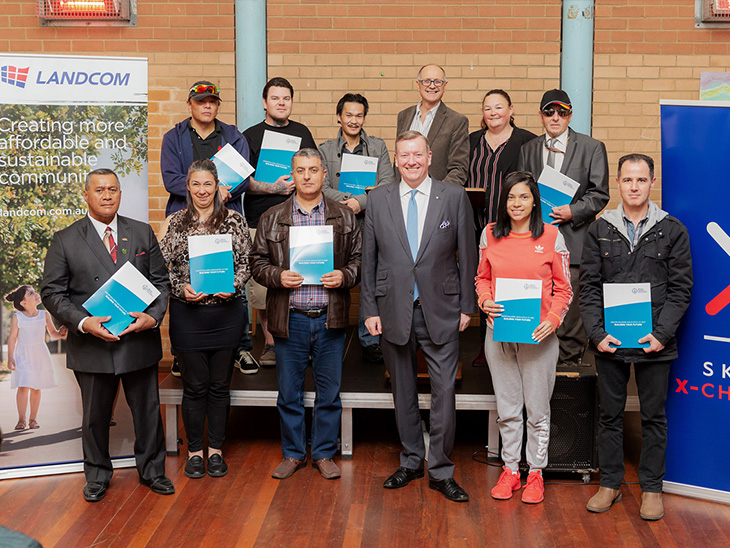 Other Case Studies